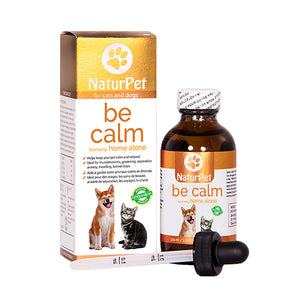 holisticpets.ca
Natur Pet-Be Calm 100ml
Regular price
$32.50
$0.00
Does your pet suffer from separation and/or travel anxiety? Thunderstorms? Over-excitation? NaturPet's HOME ALONE is an oral remedy specially formulated to help treat anxiety in your pet which results in extreme barking, meowing, crying, howling, biting, scratching, destroyed furnishings… Remember that pets pick up on your stress – if you are nervous or excited, they may get nervous or excited too! Work with caregivers at kennels, catteries and daycares – provide them with good instructions about administering medication. For kennel stays, try LUNG CARE as a preventative for Kennel Cough. Anything can happen during kennel stays so stay prepared!
• Calms and relaxes stressed and over-excited pets.
• Helps your pet cope with separation anxiety, travel stress , and thunderstorms.
• Relaxes nervous tension and balances cerebral excitement.
• Excellent for pets that go to daycare, kennels, catteries, and temporary shelters.
• Safe to use long term for high-strung breeds.
• Suitable for both cats and dogs.
Dealing with thunderstorm anxiety: Reward calm behaviour and consider providing a "safe, quiet place" for your pet during storms.
Dosing Instructions:
• Determine pet's weight
• Select the correct dose from chart based on pet's weight
• Using the included plastic dropper, place dose directly into mouth, on pet's food or dilute in water for consumption.
• Give dose twice a day
EX. If pet weighs 30 lbs, they get 1.0 ml in the AM and 1.0 ml in the PM.
Make sure to shake bottle before administering dosing. Sediment is natural for herbal products- it is just little bits of good stuff!
Refrigerate after opening. Product is good for 6 months once opened.
Don't wait for the crisis. Anticipate your pet's needs and give them HOME ALONE several hours or days ahead of stressful situations or when the weather reports predict thunderstorms in your area and also reduces fear and stress from fireworks.
Home Alone
My son is house sitting for some friends of his who are in the Military and are on a long deployment. They have 2 dogs. The larger one is a beautiful husky mix. It has anxiety issues and does not like to be left alone. It was obvious that it missed its owners but was ok as long as my son was there. But when he was away to go to work, the dog was literally tearing up the house! I did a lot of research and found these drops. I sent him a bottle -he tried it first on a weekend, so he could check frequently on the dog to make sure there were no adverse reactions. He stayed for the first hour and the dog was fine-just laying at his feet. Then he left for longer and longer times-the last one for 4 hours. When he returned, the dog was still calm and had not damaged anything! (Without the calming drops, he had literally ripped off drywall, damaged doors, ripped up the sofa…) He now uses these regularly.
---
Share this Product
---
More from this collection