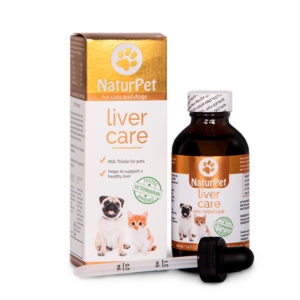 holisticpets.ca
Natur Pet- Liver Care 100ml
Regular price
$33.99
$0.00
Increase the vitality and length of your pet's life by cleansing their liver regularly! NaturPet's LIVER CARE is an oral remedy containing Milk Thistle to clean and protect your pet's liver from the damaging buildup of toxins and microbes that can result in illness. Cleaning the filters in your car or furnace is a simple maintenance procedure that helps these machines run better. Regular cleaning of the filter (also known as the liver) in your pet's body will help his systems run better too! For a great regular cleanse routine follow with NaturPet's URINARY CARE two or three times a year. Keep those engines running!
• Helps with reoccurring or chronic illnesses and liver conditions.
• Flushes toxins out of the liver to improve liver function.
• Increases energy.
• Safe to use long term for chronic conditions.
• Supports healing through cell regeneration.
• Often recommended by Vets for pets on NSAID or steroidal medications.
• Suitable for both cats and dogs.
Not recommended for use during pregnancy or while feeding young.
Dosing Instructions:
• Determine pet's weight
• Select the correct dose from chart based on pet's weight
• Using the included plastic dropper, place dose directly into mouth, on pet's food or dilute in water for consumption.
• Give dose twice a day
EX. If pet weighs 30 lbs, they get 2.0 ml in the AM and 2.0 ml in the PM.
Make sure to shake bottle before administering dosing. Sediment is natural for herbal products- it is just little bits of good stuff!
Refrigerate after opening. Product is good for 6 months once opened.
---
Share this Product
---
More from this collection