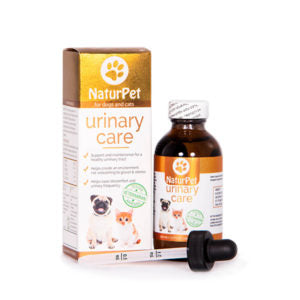 holisticpets.ca
Natur Pet-Urinary Care 100ml
Regular price
$35.98
$0.00
URINARY CARE
Is your pet suffering from a painful Urinary Tract Infection? The need to urinate small amounts more often, pain upon urinating, strong odor, dark colored urine, blood in the urine are all signs that there could be a urinary tract infection. Help ease their pain with NaturPet's URINARY CARE. URINARY CARE is an all-natural, non-prescription, drug-free oral remedy and a urinary antiseptic – it soothes, cleanses, and revitalizes the entire urinary tract.  Water is key to keeping your pet's kidneys and bladder in good health. It is also important for liver health as well. LIVER CARE helps to filter just like URINARY CARE. Change their water regularly. Watch out for puddles – they could contain environmental contaminants like fertilizers, pesticides and automobile oil. Yuck!
• Deals with infections quickly and thoroughly.
• Reduces bacterial levels and flushes out toxins and wastes.
• Soothes inflammation of the mucous membranes of the urinary tract.
• Helps to stop bleeding and relieve pain.
• Helps to prevent the development of gravel and stones.
• Reduces the risk of recurrence when used as a preventative.
• Suitable for both cats and dogs.
Urinary Care can be used long term regularly as a preventative for pets prone to reoccurring infections. Help prevent urinary tract infections: keep your pet's genitals clean, watch your pet's diet, maintain exercise, and keep their bedding clean.
Dosing Instructions:
• Determine pet's weight
• Select the correct dose from chart based on pet's weight
• Using the included plastic dropper, place dose directly into mouth, on pet's food or dilute in water for consumption.
• Give dose twice a day
EX. If pet weighs 30 lbs, they get 2.0 ml in the AM and 2.0 ml in the PM.
Make sure to shake bottle before administering dosing. Sediment is natural for herbal products- it is just little bits of good stuff!
Refrigerate after opening. Product is good for 6 months once opened.
If symptoms are not clearing or getting worse – take your pet to the Vet.
---
Share this Product
---
More from this collection