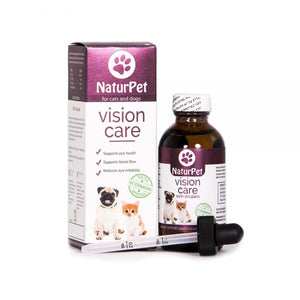 holisticpets.ca
Natur-Pet Vision Care (Opt-ex) 100 ml
Regular price
$33.99
Sale price
$35.65
Improves eyesight, inhibits macular degeneration
Support eye health
Support blood flow
Reduces eye irritability

Have you noticed a change in your pet's vision? NaturPet's VISION CARE is an oral tonic that contains Bilberry. Bilberry has been shown to support vision and healthy eye function. Check your pet's eyes regularly in a brightly lit room. Eyes should be bright and clear with evenly sized pupils and the eyelid lining should be a soft pink – not white or red. Take note of any discharge – gently wipe away small amounts of crusty with a cotton ball (use a clean one for each eye). Frequent discharge or tears can be a sign of a problem – take your pet to the Vet! Vision is just one thing that aging pets have to deal with. Getting older also means hips and knees can get arthritis. Try JOINT CARE for added joint support.

• Helps prevent cataracts, macular degeneration, and nearsightedness.
• Reduces eye irritability associated with allergies.
• Contains powerful antioxidants that help to protect cells of the eye from free radical damage associated with aging.
• Strengthens blood circulation to the eye to increase the flow of oxygen and nutrients for improved function.
• Suitable for cats and dogs.


Vision Care is taken orally for internal use. DO NOT use as eye drops.

Vision Care is safe to take long term as a preventative measure. It works well when combined with Vitamin E. Keep long locks out of your pet's eyes. A little trim can help with vision and remove irritating hairs that can cause infections.

Dosing Instructions:

• Determine pet's weight
• Select the correct dose from chart based on pet's weight
• Using the included plastic dropper, place dose directly into mouth, on pet's food or dilute in water for consumption.
• Give dose twice a day
EX. If pet weighs 30 lbs, they get 1.0 ml in the AM and 1.0 ml in the PM.

Make sure to shake bottle before administering dosing. Sediment is natural for herbal products- it is just little bits of good stuff!
Refrigerate after opening. Product is good for 6 months once opened.
---
Share this Product
---
More from this collection